Friday, 13 May 2016 00:00
MS Dynamics CRM vs SalesforceSign up for a free CRM course!Learn more about CRM's features
Being part of the help desk support team affords me the opportunity to learn about little idiosyncrasies in Dynamics CRM. And I like to pass along these sweet nuggets to our loyal blog readers in case you find yourself in a similar pinch.
Have you ever wanted to add 'Company' to an existing Lead view, and the field is nowhere to be found?
In order to see the field, you need to perform a bit of trickery…
ü Choose any other entity from the 'Record Type' dropdown,
ü Then switch back to the Lead entity
ü Click on the Display Name column, sort and re-sort, and like magic 'Company' will display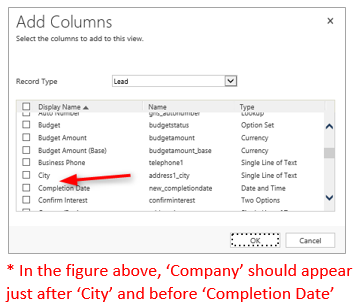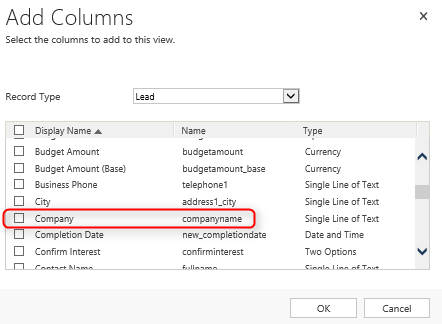 From a View, have you wanted to filter by a specific column, but found that the sort option for that column is not available? Similarly, when performing an Advanced Find Query, a field that you would like to exercise a query filter against is not shown in the list of available fields to select from?

The reason for this is actually quite simple to remedy. The field has not been defined as 'Searchable.'
To resolve, go to Settings à Customizations à Customize the System à Expand Entities node à Select Entity and expand à Fields node à Select Field à Change Searchable to Yes à Save, Close and Publish.

When performing a Global Search, records you assumed would show up, don't?
ü Confirm that the entity has been enabled for Search. Settings à Administration à Select Entities for Search

ü Also ensure that the fields are selected in the Quick Find View for the entity.
Last little tip -- When creating a View, you cannot configure sorting on a column that is related to the entity. You can only configure sorting on the entity for which the view pertains.
To learn more about Dynamics CRM and other solutions we offer consulting, hosting, and support for, visit our Solutions Page and download our free 30-day trial.
Stacey Mancuso, CRM Certified Application Specialist, WebSan Solutions Inc. a 2014 Ontario Business Achievement Award Winner for Sevice Excellence
Thursday, 26 November 2015 15:47
MS Dynamics CRM vs Salesforce Sign up for a free CRM course! Learn more about CRM's features
I was recently speaking with some likeminded CRMers in the community and we were discussing what we find to be at the top of the list for help desk inquiries. The overwhelming consensus was CRM for Outlook.
Do you ever find yourself faced with CRM for Outlook just not cooperating? Whether it be that you are having undesirable or unresponsive behaviors, the CRM tab is greyed out, or the CRM tab has vanished. Have no fear, you are not alone, and with a few checks and few clicks, more often than not, one of the following suggestions will be your golden nugget for resolution.
Check the following machine related roadblocks for starters...
ü Ensure that your CRM for Outlook version matches up with your CRM server version. It could be that you are out of sync.
ü Could you possibly have add-ins that are not playing nicely with one another? Begin to disable your add-ins one by one and see if CRM for Outlook is positively affected.
ü Is your Outlook mailbox overloaded? Double-check your mailbox capacity, it may be high time you do a little housekeeping.
ü Do you have adequate resources on your machine to support all of the applications that you are running? Check your RAM to ensure that you are not pushing the limits of what your machine is capable of.
ü Depending on your firewall settings, it may be necessary to add your CRM server address to Trusted Sites in Internet Explorer. Along with that, it may be beneficial to clear your browser's cache.
ü Is your anti-virus software doing too good of a job? It could actually be preventing you from performing actions which are legit!
Has your CRM tab on the ribbon disappeared without a trace?
This is usually easily remedied by navigating to File à Options à Add-Ins à Select GO and tick off the checkboxes for Microsoft Dynamics CRM.
And just like that, you have brought your CRM tab back into Outlook.
CRM ribbon greyed out?
Again, typically a quick fix...Search for the Diagnostics Wizard on your machine and click the Enable button shown on the Advanced Troubleshooting tab.
Let's wrap this up with "Track" and "Set Regarding" and also answer the common question of why "Convert To" is greyed out.
When you select a record from your Inbox in CRM, and click 'Track', you are promoting the email to CRM as an activity without an association to a particular record. Depending on the Personal Options you have set, you may also be creating a new Contact or Lead at the very same time.
If I may give my two cents, I would caution against ticking off the box which auto creates new contacts or leads. You may end up with records for the local pizza place, or worse, a record created for one of those "fun emails" that slips through the Spam filter.
'Set Regarding' on the other hand, not only tracks the email, but also associates it to a specific record of your choosing. The association not only relates to the record you have chosen but also rolls up to related parent records. Whether you have chosen 'Track', or 'Set Regarding', you will now notice that 'Convert To' has come to life and you now have the ability to convert the email into a New Opportunity, Lead, or Case.
The next time you find yourself scratching your head over why CRM for Outlook is 'acting up', come back to this post and try out some of the suggestions. You too, may just find that what you initially thought was going to be a major headache is quickly resolved with a few quick checks and clicks. For more information on this feature and other CRM questions that have you up at night, WebSan is here to help!

Stacey Mancuso, CRM Certified Application Specialist , WebSan Solutions Inc. a 2014 Ontario Business Achievement Award Winner for Sevice Excellence