Tuesday, 23 January 2018 16:15
Microsoft Dynamics NAV is a complete enterprise resource planning (ERP) software solution for mid-sized organizations that is fast to implement, easy to configure and simple to use.
With each new Dynamics NAV release, Microsoft introduces the latest and greatest feature sets, offering us more ways to customize and administer our environment "out of the box." Sign up today to reserve your seat.
The webinar will focus on the following topics:
Employees Tasks
Power BI Reporting
New Posting Setup
Bulk posting of orders, invoices and credit memos
Date: Thursday, January 25, 2018
Time: 11:00 am – 11:30 am EST
As an added bonus, here are some more features that are available in Dynamics NAV 2018:
Preconfigured Excel Reports
The Business and Accountant Role Centers have a new option in the ribbon for Excel Templates. From the Excel Templates list, users can choose a pre-configured report that is ready to print from Excel.
Setup and Extensions
From the list of actions, you can open setup pages, either assisted or manual, and you can open setup pages for service connections and extensions. Third party extension providers can add actions to the list.
Posting directly to general ledger accounts from documents
If you need to add an additional fee or service of some kind to a sales or purchase document, but the item isn't in your item catalog, you can now add it on the fly in the document and post the revenue to the correct general ledger accounting from the document lines.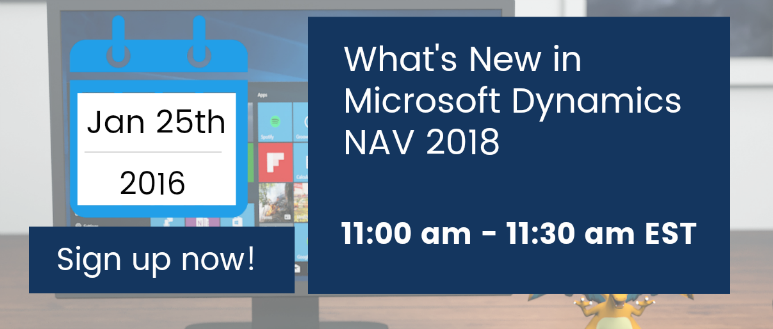 Natalie Williams, Marketing Manager, WebSan Solutions Inc.,a 2017 Microsoft Modern Marketing Innovation Award Winner
Monday, 17 April 2017 13:36
Download our FREE Microsoft Dynamics NAV Trial
Last October 2016, Microsoft released an update for Microsoft Dynamics NAV 2017 that boasts notable features particularly within the finance module, items, jobs, workflow templates and integration with Office 365. To dive deeper into the features and functionalities of this new update, WebSan Solutions is offering "What's New in Microsoft Dynamics NAV 2017" webinar on Thursday, April 20th, 2017 from 11:00 AM to 11:30 AM EST.
The free 30-minute webinar will not only discuss the new features of Dynamics NAV 2017, it will also offer some tips and techniques for best practice. Some of the new features that will be discussed include:
New financial reports and workflow templates
Updates to inventory items, the finance module and Jobs feature
Interconnectivity with Office 365 and Power BI
Smarter sales and purchase documents
And more
Register today to reserve your spot!
Click here to register for this webinar
Linz Tan, Web Marketing Assistant, WebSan Solutions Inc., a 2014 Ontario Business Achievement Award Winner for Service Excellence