Monday, 12 February 2018 16:08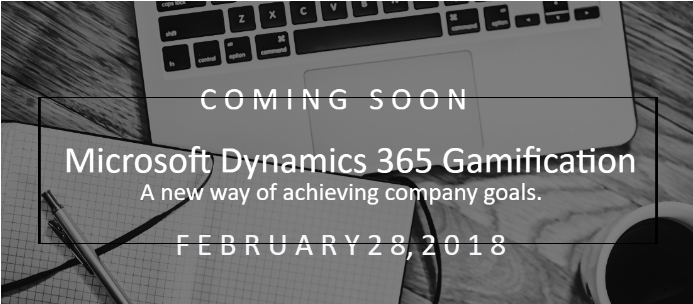 Engage team members across your entire organization and fuel some friendly competition around the water cooler with Microsoft Dynamics 365 Gamification!
Gamification is the idea of using 'gaming' to turn work into play. And Microsoft Dynamics 365 Gamification does just that by engaging and motivating people to achieve their goals through friendly competition. Not only is it a fun way to lighten the mood around goal setting, gamification is also shown to lead to increased organizational performance, productivity, and adoption of business applications.
So what are you waiting for…Ditch the spreadsheets and launch a new approach to setting and meeting (and ultimately exceeding) sales and service goals!
The webinar will focus on the following:
Why Gamification? And how to keep it fun and engaging!
Explore the different Gaming Models
All heads on deck - Get everyone in the Game
Participation has its benefits - Game Awards



Date: Thursday, January 28, 2018
Time: 11:00 am – 11:30 am EST
Crystal Williams, Web Marketing Assistant, WebSan Solutions Inc.,a 2017 Microsoft Modern Marketing Innovation Award Winner
Friday, 07 October 2016 00:00
Download Our FREE Microsoft Dynamics 365 Demo
Microsoft Dynamics 365 for Financials is a business management solution that's connecting people and processes like never before. From day one, it makes ordering, selling, invoicing, and reporting easier and faster.
This system is for small to medium sized businesses looking for a cloud-based solution to integrate their ERP and CRM system.
By downloading this demo, you will learn the benefits and advantages of Dynamics 365 and get all the information you need to make better business decisions.
Dynamics 365 is the perfect fit for SMB's looking to boost efficiency with automated tasks and workflows all from within familiar tools like Outlook, Word and Excel.
Here are some reasons that you should download this demo:
• View sections of the demo at your own time
• Control your viewing
• Send any questions you have about the demo/features
• No need to register for an account
• Create transactions such as invoices, purchase orders and credit memos
• The system integrates with Office 365
Our team of experts have determined that this is the best way to initially review the system and decide if it meets your basic criteria. Then, you can always Request a Live Demo and consult with one of our representatives if you need in-depth details about the software.
Also, If you want to see our other Microsoft products in action, we have other downloadable trials available as well!
Natalie Williams, Marketing Manager, WebSan Solutions Inc., a 2014 Ontario Business Achievement Award Winner for Service Excellence