Displaying items by tag: Business Rules in Dynamics CRM
Tuesday, 09 October 2018 11:57
Dynamics 365 Business Rules help organizations achieve automation by performing tasks for users based on predetermined logic. This means less time entering data and more time making key decisions. Business Rules can also be used to enforce behavior by controlling certain field properties. This allows upper management to ensure proper steps are taken daily. If these controls are implemented properly, both the organization and users will see the benefit afforded through the configuration of Business Rules.
Business Rules in Dynamics 365 are a simple way to apply logic to your business data without the need for any code. D365 Business Rules are effective, yet easy to manage. The typical Business Rule follows the "if, then" statement structure and often contains two or more parts. The first part is always a condition statement where you state the condition which will trigger the business rule to take effect. The second part is the action, meaning once the set condition has been met, what action should be performed.
Below is sample Business Rule diagram to illustrate how a typical Business Rule is setup.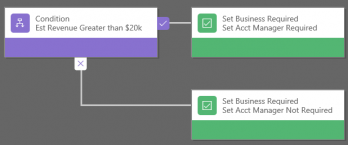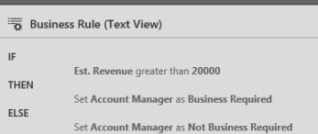 As you can see, the condition statement is checking the Estimated Revenue for an opportunity, if the Estimated Revenue exceeds a certain threshold then an account manager must be associated to the opportunity. Simple rules like these can help organizations improve their daily process and grow more effective to achieve their goals.
Business Rules in Dynamics 365 can perform an explicit set of functions against records. Below is a list of the actions and what each does.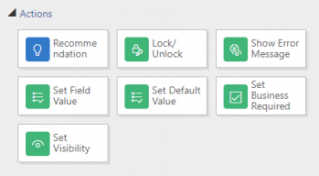 Create Business Recommendations: Provide users a recommendation on suggested next action
Lock/ Unlock Fields: Lock/Unlock fields to control user input
Show Error Message: Alert users when certain key information is missing or entered incorrectly
Set Field Values: Automatically populate fields based on set conditions
Set Default Value: Enter default value on normal conditions
Set Field Requirement Levels: Enforce data capture to ensure fields are completed
Set Visibility: Show and hide fields based on conditions
Now that you know what Business Rules are capable of, why not try creating one for yourself. Checkout our step by step instructional video on how you can setup your own business rules.
As always if you require any assistance with setup or require a better understanding of Business Rules, contact This email address is being protected from spambots. You need JavaScript enabled to view it..
Thursday, 08 October 2015 14:30
MS Dynamics CRM vs Salesforce Sign up for a free CRM course! Learn more about CRM's features
No programming knowledge? No problem!
Business Rules, which are delivered right out-of-the-box with Dynamics CRM, tackle client side logic in a user friendly way, allowing virtually anyone that is responsible for managing their company's CRM to get off and running with this fantastic tool in no time.
In a nutshell, this little gem allows you to create and add form design functions to the system and custom entities without a lick of development. Through "If…Then…Else" conditional statements, you too can create rules which monitor the behaviour of fields and subsequently define an action or actions to be taken upon the conditions being met.
Gone are the days of reaching out to developers for JavaScript and plug-ins each and every time a requirement rears its head. Don't get me wrong – it's not some sort of magic potion that will make all your wishes come true. But, you are bound to dazzle your users (and your boss), with fields that seamlessly appear just when they need them; field values which auto-complete right before their very eyes; field requirements changing on the fly, ensuring the most relevant data is always captured; and error messages, or what I prefer to call 'reminder messages' which prompt users to conform to best business practices. With a little creativity and some business logic in tow, Business Rules can do all that and so much more!
Still on the fence on what Business Rules on Dynamics CRM can do for you? Check these out.
Here's a quick guide to find the Business Rules section:
From your Solution section, select either the Fields option or Business Rules option beneath an entity.
You can also access Business Rules from the Home tab in the ribbon of the Main Form of an entity or from the Field Properties of a field placed on the form.
Upper management will be thrilled by how the implementation of a handful of well-planned and thought through Business Rules can simplify processes, effectively promote data integrity, and, most importantly, have all of your CRM users working synchronously.
To learn more, check out our video, New Features and Functions in CRM 2015,which includes a section dedicated to Business Rules.And of course, you can always get more information on this topic and anything else CRM related, by checking out our CRM Solutions!
Stacey Mancuso, CRM Certified Application Specialist , WebSan Solutions Inc. a 2014 Ontario Business Achievement Award Winner for Sevice Excellence